Your quality service expert
    INSPECTION-CHINA is a third-party quality services company. We provide a wide variety of quality inspection, factory audit, and technical consultation services with our professional knowledge and technical skill. During the inspection and audit, all the instructions of clients will be strictly respected. We provide our clients the first-hand information veracity and integrity to our clients. We are the eyes and ears of our clients.
Besides the quality inspection and audit services, the sourcing and trade assistance are also the favorite ones used by our clients, especially for the import companies and entrepreneurs. Our experienced team ensure our clients a real serenity throughout the purchasing process and production in China.
Our customized solutions are tailored to help ensure products comply with industry standards, are produced to client specifications and meet consumer expectations.
As an independent third-party service company, INSPECTION-CHINA is just as your own function extension of Quality Assurance and Technical Teams in China, we always consult advices and work with our clients.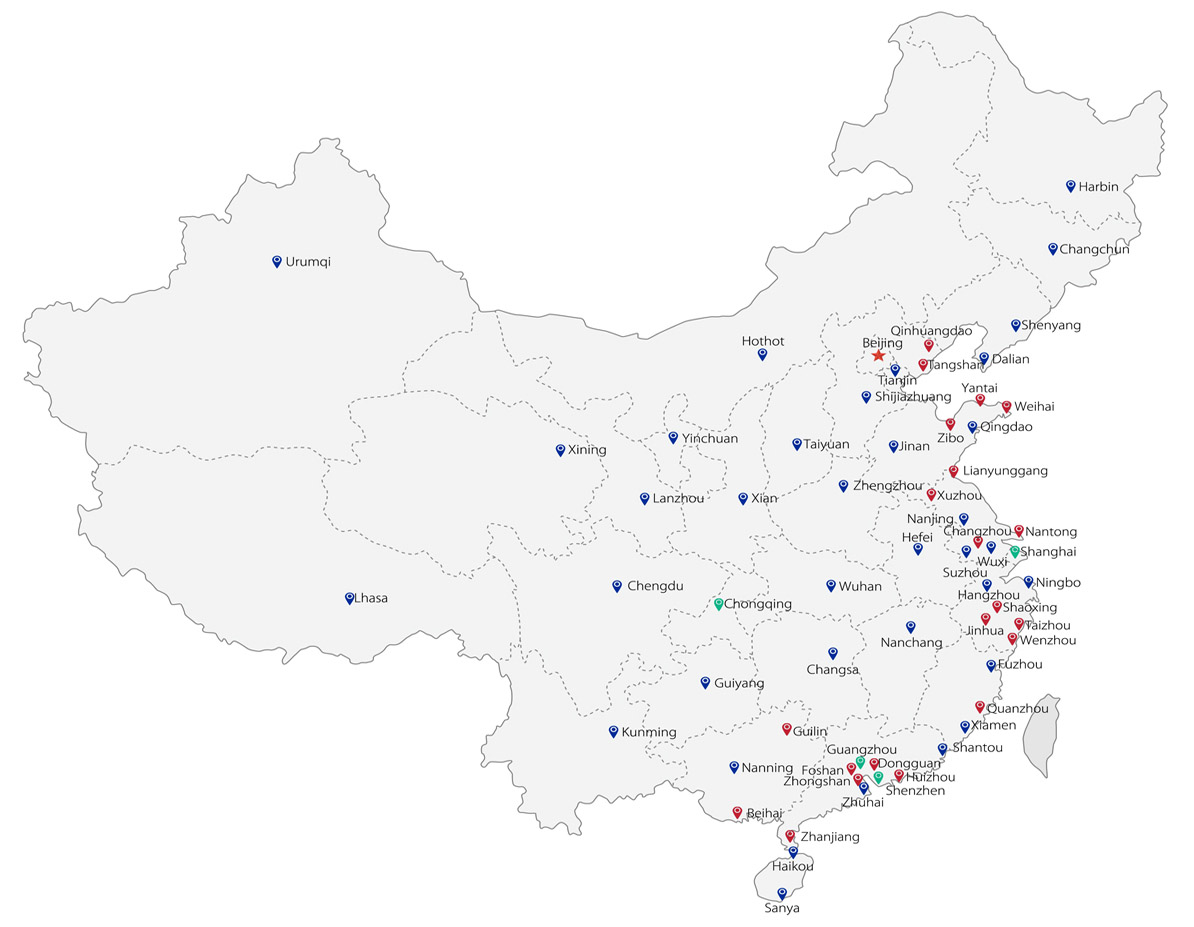 China Manufacturing cities (sources: U.S. Commercial Service)
Our operation centers are in most chinese industrial cities, like Ningbo, Shanhgai, Hangzhou, Shenzhen, Qingdao, Guangzhou, Dongguan, Xiamen, Suzhou etc.
We are able to send an inspector anywhere in China in your factory within 72H and return to you an inspection or audit report within 24H.
We are fully dedicated to
of our customers ONLY
Our success is from not only the confidence and support of our clients but also the key values followed by all the members of our team.
    INSPECTINO-CHINA team has rich experience across a wide range of industries, like mechinery, textiles, shoemaking, plastic, furniture, kitchenware, domestic appliance, toy, fashion design, stationery, promotional product, etc, and we can always propose you the pertinent suggestion at the beginning of our service. All our engineers will also work out quickly the best solutions corresponding to reality of your own case.
     All the communications made by INSPECTION-CHINA with supplier will be totally transparent for the client. We keep always our client informed just after the communication with supplier.
Our client will be informed immediately for all the abnormal problems detected during our operation and regular communication with the supplier, no hidden information will be kept between INSPECTION-CHINA and client.
    INSPECTION-CHINA respect always the service timing promised to our clients. No operation delay or report sending delay will be accepted in our team. We can send the inspection report within 24h with all details, photos and videos. For some urgent cases, we can even send the full inspection report within 8h after the mission.
    Besides English, the working language which is available for all the clients and our team members, INSPECTION-CHINA has also team members who speak fluently japanese, french and italian. All the communications with client will not meet any linguistic barrier and everything will be clear between the client and supplier.
    The respect of business and industrial secret is always the most important thing inside INSPECTION-CHINA team. Our team members follow strictly this principle before, during and afther the services and the collaboration with our clients. No diffussion of client's information, product details, supplier contact and the trade information to the third party.
    INSPECTION-CHINA promise that we will not make any kind of secret agreement with supplier and we have estabished a strict process to avoid the commercial bribe from suppliers. For all the trade assistance services, INSPECTION-CHINA will not make any commercial benefit from the deal between the client and supplier. All that we receive is the service fee payed by our client.